Rheinhessen White wine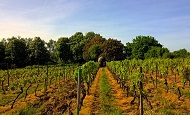 Rheinhessen probably had the greatest qualitative improvement of all German wine regions in the last decades: from a mass wine cultivation area to the supplier of the most demanded and most expensive dry Rieslings of Germany. New generations of winemakers show the entire potential of the region .

The Riesling is the most important white variety, but also Grau- und Weißburgunder, Chardonnay , Silvaner and Scheurebe produce white wines with class.
Taste the great wines of the Winery Gysler , crystal-clear wines with class at a really fair price, as the magazine "Falstaff" confirms it with the title "Best price-quality wines in 2015.