Croatia red wine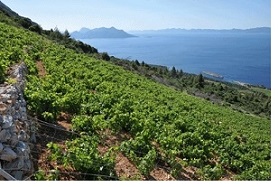 Croatia is not only a wine-growing country with a long tradition, it also has a surprising variety of wine styles and grapes thanks to its five climatically different wine-growing zones. In continental Croatia, the coolest and most fertile region, mainly white wines are cultivated, grape varieties such as Grasevina or Traminac (Traminer) are traditionally grown here, but they are now supplemented by Sauvignon Blanc and red varieties such as Merlot or Cabernet Sauvignon ,
The best white wines of the croatioan adriatic coast grow in Istria , whose wines are stylistically reminiscent of neighboring Friuli. The dry and hot Dalmatia is dominated by red wine, specifically Plavac Mali . Other domestic red varieties are the soft Babic and the increasingly popular Crljenak (= Zinfandel) , which originates from Dalmatia and is not, as is still often to be read, identical with the Primitivo from Italy, it's only related. The Posip is the qualitative No. 1 among the white varieties and even in this warm climate still produces elegant and lively wines. He also tolerates the delicate barricade. The Vugava is lush and not so fine, but usually a solid glass of white wine with fun factor.
A new generation of winemakers is currently turning around the viniculture of Croatia, and with modern technology and the latest know-how, is preparing more and more wines with class. Many of these new wineries also welcome interested tourists in their elaborately renovated tasting rooms.