Burgenland white wines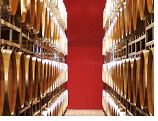 The wine-growing region Burgenland is divided into four sub-zones: 

1.) Neusiedlersee: covers the east bank from Gols to Illmitz in the Seewinkel. Virtually all varieties and wine types grow here. In the Seewinkel grow some of the best noble sweet wines of the region.
2.) Neusiedlersee-Hügelland / Leithaberg: refers to the west bank of the lake with the famous villages of Rust, Oggau, Mörbisch and Jois. Here mainly dry Weissburgunder, Chardonnay and Blaufränkisch thrive, but also great sweet wines such as the Ruster Ausbruch.
3.) Mittelburgenland: the Blaufränkisch land with the winegrowing communities Neckenmarkt, Horitschon, Deutschkreutz, Lutzmannsburg, south of Lake Neusiedl. Great complex red wines with "cool" finesse.
4.) South Burgenland: south-west of the lake, Eisenberg and Deutsch-Schützen are the most important wine-growing communities, the Blaufränkisch also dominates here.
The most substantial red wines of Austria are usually produced in the Burgenland, but of course also characteristic dry white wines and sweet wines of world renown. Due to the different terroirs of the Burgenland, many international grape varieties have found ideal cultivation conditions as well as the native varieties Welschriesling and Grüner Veltliner.