Rheinhessen red wines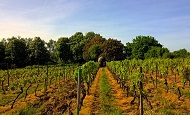 Red wine production has a long tradition in Rheinhessen, the largest German wine-growing region. Especially in the vineyards around Ingelheim and in the Wonnegau region one can find excellent red wines, which are among the top in Germany. The Dornfelder is the most important red wine region with 13% of the total vineyard area, followed by the Spätburgunder (5.5%) and the Portugieser grape (5.2%).

From a qualitative point of view the world is a different one, the Spatburgunder, also called Pinot Noir, is the the number one, no other grape can match its elegance. Nevertheless, one should not forget the new imported red varieties like Cabernet and Merlot which are becoming increasingly popular, even if this is still a small niche market.