Rhône red wines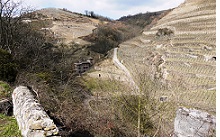 In addition to Burgundy and Bordeaux, the Rhône valley is one of the three most important red wine regions in France. Strictly speaking, it consists of two subregions with an significant difference in climatic and geologically terms and wine culture.
In the northern Rhône the red Syrah vine dominates the scenery. In the steep slopes between Vienne and Valence, some of the most famous Syrah wines in the world are produced: Côte-Rôtie, Hermitage, Crozes-Hermitage, Saint-Joseph and Cornas are the most famous AOPs. The continental climate of Burgundy meets with the Mediterranean influences of the south. The northern Rhône is still a cool cultivation area, nowadays called "cool climate".
The southern part of the Rhône is quite different: clearly mediterranean, although the Mistral wind from the north provides for a refreshing cooling. The Grenache Noir, the Mourvedre, the Cinsault, the Carignan and the Syrah from the north are the most important grapes, which are usually mixed to an assemblage, in contrast to the single varietal wines of the north. The southern Rhone wines usually have less tannins, a much softer acidity and a higher alcohol content, which results in soft, round and full bodied wines.
Taste the top wines of winemakers like Yves Cuilleron, Domaine de 4 Vents, Guy Farge, Jaboulet, Fontaine du Clos, Domaine Palon and many more. You will understand our enthusiasm.