Viognier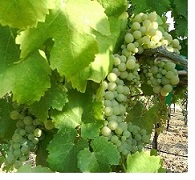 The white grape variety Viognier was on the verge of extinction due to its low yield and susceptibility to powdery mildew in the late 1960s, just 14 hectares were still cultivated in France. The quality of the wines from the steep slopes of the tiny AOCs Condrieu (today about 110 ha) and Château Grillet (3.5 ha) on the northern Rhône led to a true Viognier boom in the 1980s and the variety gained many friends among winemakers and wine lovers around the world. Today more than 4,100 hectares are planted with Viognier only in France. In addition to the northern Rhône, mainly on the Ardeche and the Languedoc-Roussillon.
A relatively cool climate, with marked temperature differences between day and night, gives the Viognier its unmistakable fragrant character, reminiscent of a fresh flower meadow, chamomile, apricots and exotic fruits. The Viognier produces a full-bodied white wine, which many connoisseurs usually find the best in the first 5-6 years of their life when the fruit is still present. It also benefits from a careful barrique cultivation, too much wood influence is at the expense of the fragrance and thus at the expense of the actual strength of the grape.
The white grape Viognier can be used in the red wines of the red Côte-Rôtie (max. 20%). Very unique among the greatest traditional red wines of the world.