Austria white wines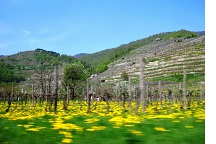 Austria has a vineyard area of approximately 45,000 hectares, 65% of which is planted with white vines. 6500 winegrowers are bottling wine. The most important grape variety is Grüner Veltliner , with  36% of the total area. Welschriesling, Müller-Thurgau, Weißburgunder, Chardonnay and Riesling are other important white varieties. There are also a number of exciting local varieties such as Zierfandler, Neuburger, Roter Veltliner and various Muskateller (Muscat) varieties.

From the Lower-Austrian wine regions of Kamptal, Kremstal and Wachau are the internationally most famous austrian white wines, mostly from Grüner Veltliner and Riesling. Styria has earned an excellent reputation for light dry Muskateller and crystal-clear Sauvignon Blanc .
In the Burgenland all kind of grapes found their place. In addition to excellent dry whites, the most famous sweet wines in Austria are also produced here.