USA Red Wines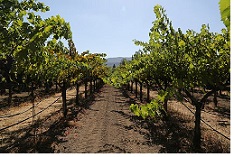 Today's viticulture in the USA goes back to the middle of the 18th century, when Franciscan monks planted the first vineyards in northern California. The first European vines, which characterize the viticulture today, presumably did not enter the USA until 1833. Beginning in the 1850s, the first commercial wine growers were established in Sonoma and Napa Valley. In the 1970s, the world dicovered wines from California, as californian wines won the legendary Paris blind tasting against their french counterparts. 
California is still the centre of the American wine world, but other areas are also attracting attention, such as the outstanding Pinot Noirs from Oregon and the red and white wines from Washington. Wine is produced in all states of the USA today, even in Alaska and Hawaii. The USA is the fourth largest producer of grapes in the world.

The most important red grape varieties are Cabernet Sauvignon, Merlot, Syrah (= Shiraz) and Pinot Noir, as well as the powerful Zinfandel, which is regarded as the Californian characteristic, although originally from Croatia.