Kamptal white wines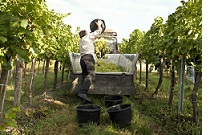 Like all winegrowing areas in Lower Austria, the Kamptal is dominated by 
white wines.
The proportion of red varieties is relatively low. The great white wines of the Kamptal are usually grown from Grüner Veltliner or Riesling, occasionally joined by a Chardonnay, which was aged in Barrqiques.
From the pleasant light wine of the Heurigen pubs to the highly concentrated and long-lived white wines from the top vineyards of the Kamptal, a wide range of quality and style variations is possible.
Because of its complex and precise wines, we have chosen
Kurt Angerer
, a wine-maker with passion and skill, who makes brilliant wines in every class, which also have a remarkable storage capacity.