Jolivet, Bastien - Rhône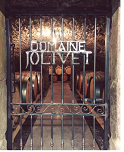 One of our discoveries of the year is a brand new Domaine Jolivet from the northern Rhône. Bastien Jolivet returned to the family estate after a few years of learning in wineries in France and abroad and started the self-marketing of the wines, which grow mainly in the AOP Saint-Joseph, with the 2014 vintage. There is one white wine and two reds from this AOP, the premium wine is the Saint-Joseph "1907", whose vines were planted in this year. As a starter, there is the Cuvée de Louis, a Syrah, which grows a little outside the AOP border and must therefore be named "Vin de France".
The Jolivet wines have an impressive clarity and brilliance, powerful, but always vinified on perfectly ripened grapes and fine tannins, there is no heaviness due to overripeness in the wines. Bastian Jolivet is a upcoming star in Saint-Joseph, we are sure of that.
Meanwhile, Robert Parker's Wine Advocate has also discovered the Jolivet wines, the white St. Joseph Clef de Sol rated 92/100, the red l'Instince 89-91 / 100 and the "1907" (mistaken as "Vieilles Vignes ") Got a whopping 92-94 / 100. Not bad for a newcomer!