Di Lenardo, Friaul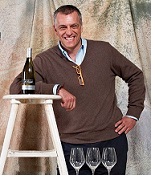 Massimo (Max) di Lenardo today runs the winery, founded in 1878, with its 50 hectares of vines, divided into four large plots with 40 hectares of family owned vineyards, rented vineyards and a small part of controled grape suppliers in the DOC regions Friuli Grave, Friuli Aquileia and Colli Orientali Del Friuli.
All grapes are harvested by hand and are made with modern technology. Di Lenardo calls itself the most advanced and high-quality producer in the Grave area. This includes the fact that since 2009 all electricity has been generated by solar cells.
Di Lenardo produces crystal-clear and distinctive wines , a perfect expression of the grape variety and region, the wines have the typical softness of the Friulan wines and an excellent price-quality ratio. Numerous awards by the press underline the quality of the wines produced by Di Lenaro, Luca Maroni, the Gambero Rosso and the Spectator praise the wines, 70% are exported all over the world today.