Cave de la Petite Révolution, Provence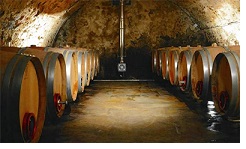 Gregor Drescher, wine expert, wine journalist and specialist on the production techniques of top wines, bought several plots in Provence after detailed analysis of the soils and vine stocks, with the aim of producing wine icons in small quantities that can compete with the greatest wines in the world.

The historical cellar of the Cave de la Petite Révolution is located near Saint-Tropez and has just space for two harvests with six barriques each - see picture. Two water sources give this cellar ideal for micro-vinification. Finest barriques from the best tonnelleries of France are used here.
This is where the most exciting wines of Provence are grown in extrem limited quantities, certainly not cheap, but certainly great!