Croisille & Dom. de Fage, Cahors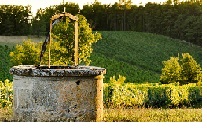 The Croisille family has been operating viticulture in the Cahors since 1979, more precisely on the plateau of Luzech, which, with its calcareous soils, offers an ideal terroir for the Malbec grape variety (here called "Cot"). Château les Croisille has now grown to an impressive 30 hectares by purchasing the neighboring Domaine de Fage estate. Meanwhile Bernard and Cécile Croisille are supported by their three sons Germain, Nicolas and Simon. The philosophy of the house is based on the conviction, that great wine is produced in the vineyard and not in the cellar. The vineyard has been bio-certified since 2013 as a logical development towards characterful wines that reflect their origin as naturally as possible.
The Château les Croisille and Domaine de Fage wines are on a very high level. A qualitative pacemaker of the entire French southwest. Precise tannins, characterized by the terroir / soil, straightforward and even fine, an attribute which was thought to be impossible at Cahors-Malbecs, the Croisille family creates this. It is part of a new generation of French winemakers, which combines elegance and premium tannin quality as the most desirable characteristics of a red wine.
The outstanding quality of the Croisille wines was underlined by the Decanter wine magazine, the Château de Croisille "Divin 2011" ranked first in the large Cahors tasting with 100 wines from the region.