South West "le Sud-Quest" White wines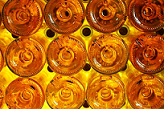 The term "Le Sud-Ouest" is used to summarize all wine-growing areas in the south-west of France, which are not part of Bordeaux. The most important cultivation area for white wine are Bergerac and Jurançon . Both regions produce first-class dry wines and noble sweet white wines.
The Bergerac has not only a geographical proximity to Bordeaux, also the grape varieties are the same and thus the wines have a similar taste, usually the Bergerac wines are a bit more chubby than many Bordeaux. Since the Bergerac is a bit in the shadow of the famous neighbor, here one finds very good wines at almost unbeatable prices .