Languedoc / Roussillon White wines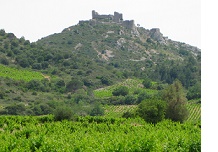 In the very warm climate of the Languedoc-Roussillon, not only excellent red wines thrive, in cooler, mostly higher situated vineyards, remarkable white wines can be produced. Traditionally sweet Muscat wines are of grown here, but in the last decades Chardonnay , Viognier or Sauvignon Blanc for modern dry wines have been planted and grown with great success. Traditional dry white wines with AOP status consist mostly of the grape varieties Grenache Blanc , Clairette, Bourboulenc, Picpoul and Ugni Blanc. However, these names rarely appear on the wine labels, since these wines are usually named according to their origin and are usually a blend of several of these varieties.

Paul Mas offers a wide range of first-class vinified wines from the Languedoc / Roussillon, which we warmly attach to you.