Torre Raone, Abruzzen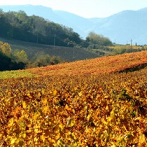 The Tenuta Torre Raone produces organic wines in Abruzzo, more precisely in Loreto Aprutino at 350 meters above sea level, mainly the well-known red wine Montepulciano d'Abruzzo.
The recent history of the winery begins in 1997, when Luciano di Tizio and Antonio d'Emilio took over the estate and switched to organic cultivation. Today, 30 hectares are planted with vines and another 3 are planted with olive trees. In 2006, the new cellar was inaugurated and today the production is around 100,000 bottles per year.
In order to keep the quality of the wines high, the yields are significant below the permitted maximum and works are done with state-of-the-art technology, which allows a gentle handling of the grapes and wine. Barriques are used very carefully in order not to change the traditional character of the wines. The results are unique wines with a recognition value , which still have a first-class drinkability, even when they are well concentrated.