Salvaterra, Venetien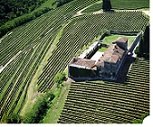 The Furia family founded Salvaterra in Valgatara only in the 1990s, so this one is a relative newcomer among the major wineries in the Valpolicella area. The idea was to acquire the best terroirs and even entire estates with the help of an investor group to produce authentic wines of the best quality with the latest technology and latest oenological know-how, in particular Valpolicella, Ripasso and Amarone della Valpolicella, as well as other red, white and sparkling wines of Veneto. The responsible oenologist is Beppe Caviola, who was selected by the Gambero Rosso as the Wine Maker of the Year 2002 .
There are now eight wineries belonging to Salvaterra: Tenuta di Prun, Tenuta di Cazzano di Tramigna, Tenuta di Prato, Tenuta di Prato, Tenuta di San Martino Buon Albergo, Tenuta di Oliosi and Tenuta di Vescovana, all producing grapes for the basic label Corte Giona and the "Cru" brand Salvaterra. The Tenute Salvaterra wines are deliberately dryer than many others, which means more freshness and that the wines need a little more time to reach the perfect enjoyment.
With love, respect, passion, pride, tranquility, patience, joy and creativity, Salvaterra produces great wines that are among the best in the Veneto region.