Piqueras, Bodegas - Almansa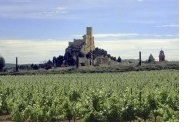 The Bodegas Piqueras is a winery in the up-and-coming south-east of Spain in the province of Albacete in Castile-La-Mancha. Since 1915, the Bonete family has been producing grapes from Garnacha Tintorera and Monastrell, which are now classified as DO Almansa. Over the decades, the production became more and more professional, since 1954 the wines were bottled by hand, since 1961 automatically, and in the year 2002 the new winery was opened in the outskirts of the city, which produces wines according to the latest standards and has space for 3,500 barrique barrels. The bodega covers its electricity requirements exclusively via solar cells.
The great capital of the Bodegas Piqueras are the vines up to 90 years old near the Castillo de Almansa, a former Moorish castle above the village, whose names is on the labels. These are responsible for the expressive and powerful wines, which are now appreciated all over the world.
The climate here is characterized by cold winters and hot summers, which, combined with the calcareous soils, ensure ideal growth conditions for the vines. In addition to the traditional grape varieties Garnacha Tintorera and Monastrell, Tempranillo, Cabernet Sauvignon, Syrah and Merlot grapes are also grown for red wines, as well as Verdejo and Sauvignon Blanc for white wine production.
The estate is now leader in the DO Almansa, the first-class wines of the winery have quickly fixed a permanent place on the international markets and are now available in 40 countries.