Paul Pillot, Burgund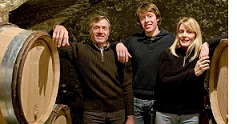 The Domaine Paul Pillot has been family-owned for more than 100 years. Since 1999 and 2003 the siblings Thierry and Chyrstelle Pillot are responsible for the wine production and have led the small 13 hectare vineyard with a lot of passion into the qualitative top league in Chassagne-Montrachet.
70% white wine is produced from the Chardonnay and Aligoté varieties, 30% from the red Pinot Noir . The wine style is more traditional, all wines are fermented with the natural yeasts. For the top wines 20-30% new oak is used, in order not to subordinate the vineyard character to the maturing. Already in the basic quality, the Pillots show their entire abilities, the Bourgogne AOC wines is a lot of fun and are great examples of the finesse of a Burgundian. Moreover, these wines are really inexpensive!

Quote Allen Meadows:  "After several consecutive vintages of producing outstanding wines, it's becoming increasingly clear that Thierry Pillot is a top-flight talent. If you haven't tried the wines, you should."