Palon, Domaine - Rhône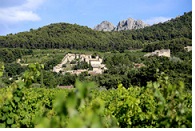 The Palon family has been active as a winegrowers in Gigondas since the 1930s. Jean Palon, grandfather of today's owner Sébastien, was a founding member of the cooperative in Gigondas, whose son followed as a long-standing president of the cooperative. In 2003, Sébastien Palon broke with the family tradition and began to produce and bottle his own wines. Today, the vineyard surface is 15 hectares with a remarkably high average age of the wine around 50 years. Seven hectares are in the AOP of Gigondas, at the foot of the "Dentelles de Montmirail", one of the best terroirs on the southern Rhône.
Sébastien Palon has quickly established itself as an extremely talented young winegrower in the region, his wines have already won numerous awards and are still sold at very attractive prices .