Moissenet-Bonnard, Domaine - Burgund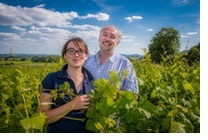 The Domaine Moissenet-Bonnard is managed by Jean-Louis Moissenet and his daughter Emmanuelle-Sophie. The origins of the winery date back to 1985, when Jean-Louis inherited a parcel of Pommard 1er Cru Pézédolles from his grandfather, Henri Lamarche.
As a lateral entrant from horse breeding, he took over the wine estate of his mother Elisabeth Moissenet-Lamarche in 1988 and develop his winemaking knowhow intensively and bought additional parcels. In 2013, he was elected President of the Syndicate of Vin de Pommard.
Since 2012, daughter Emmanuelle-Sophie has been involved in the winery, after she completed her studies and extensive internships in various vineyards. In 2016, she took over the syndicate presidency from her father and is today mainly responsible for vineyards and cellar, while father Jean-Louis takes care of administrative things and the presentation.