Lan, Bodegas - Rioja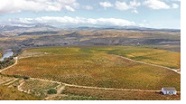 The Bodegas Lan was founded in 1972 and is today one of the most important producers for Rioja wines. The name derives from the three provinces of the Rioja: L for L ogroño, A for Alva and N for Navarra.

The wine style of the Bodegas Lan is a more modern, with soft and round Riojas, which are sold when ready to drink. Already at the Crianza level, there is a lot of style, an aromatic subtlety and complexity, which one really does not get at everywhere. The top products of the house such as the Vina Lanciano, the Lan a Mano and the Culmen are among the best wines of Spain . They originate from the 72 hectare plot of Lanciano, one of the best vineyards of the Rioja. The Tempranillo, Mazuelo, Garnacha and Graciano grapes are up to 60 years old here and need to root very deeply to survive. This ensures the complexity and the low yields, which are supporting the high quality of the Lan wines.