Klundt, Sven - Pfalz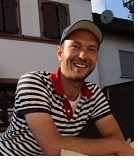 An exciting newcomer in the German wine scene is Sven Klundt with his winery in Landau-Mörzheim, southern Palatinate . After his wine-growing studies in the university of Geisenheim, he took over the parental estate in 2009 and quickly led it into new qualitative spheres. 
In the magazine VINUM, Sven Klundt was selected as one of the 25 winemaker talents of the year 2017.

The estate wines are brillant and harmonious, the variety character is clearly recognizable. There is even more concentration in the local wines, which either carry the village of origin on the label or the designation "Obsession". The top selections come from the Wacholderberg (Weißburgunder / Pinot Blanc), Hochborn (Riesling) and Kastanienbusch (Riesling & Pinot Noir) vineyards. They have the quality level of a Großes Gewachs, but cost significantly less. No animal products are used for the winmaking, the wines are vegan.