Greffière, Château de la - Burgund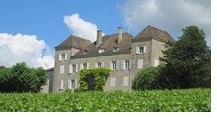 Château de la Greffière is a traditional wine-growing estate in the Mâconnais, whose origins date back to 1585. For three generations the estate has been run by the Greuzard family, which produces typical Mâccinais wines with character and style.
The vines grow in Mâcon la Roche-Vineuse, where besides the Chardonnay also Aligoté and for the red wines Pinot Noir and Gamay is cultivated.
The special pride of the estate is the plot for the Vieilles Vignes in the Roche-Vineuse, whose vines are over 50 years old .