Bonnet-Huteau, Muscadet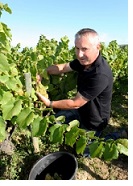 Domaine Bonnet-Huteau, which also owns Château La Tarcière, has a 150-year history in the Muscadet region.
For just over a decade, the brothers Remi and Jean-Jacques Bonnet have been responsible for the winemaking, which is dedicated to biodynamic viticulture, since 2010, the wines are officially certified organic. The amounts of sulfur used are as low as possible, a maximum of 25mg / L, (would be allowed up to 200mg). Great emphasis is placed here on the various terroirs on which the Melon de Bourgogne grows for the Muscadet. Various soil types such as gneiss, slate or granite are vinified separately and give the different wines an unique character.
Already at the entry level Muscadet Tarcière you get a very complex wine with freshness and depth and a with a great price-quality-ratio. The wines can easily be stored for at least five years.